Date: May 9, 2022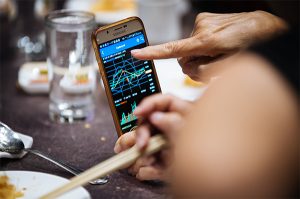 The week's main focal point was the US FOMC meeting
Despite the Fed's dovishness, Wall St eventually buckled
The STI followed suit, dropping 65 points or 2% at 3,291.89
US bond yields spiked up again, 10-year Treasury now yielding 3.13%
China's slowdown also weighed on sentiment
In local developments – Thai Beverage to revive listing plans for beer spinoff, Temasek's Azalea launched new bond issue
A dovish Fed failed to soothe Wall St's inflation/interest rate nerves
The US Federal Reserve's Federal Open Markets Committee (FOMC) meeting and the subsequent volatility on Wall Street were the main focal points of last week's stock market trading during which the Straits Times Index lost about 65 points or 2% at 3,291.89.
After the meeting which ended on Wednesday, the Fed said it would hike the benchmark lending rate by 50 basis points, rather than the standard 25 basis points.
Even though it was the largest single rate hike since 2000, markets had expected the move as it had been widely telegraphed for many weeks after the Fed had said it is adamant about reducing high inflation.
However, because the US central bank also said it isn't considering a more aggressive 75 basis-points hike, this prompted a relief rally on Wall Street where on Wednesday the S&P 500 and Dow Jones Industrial Average both rose more than 2%, posting their largest gains since 2020, while the Nasdaq gained just over 3%.
Instead of extending this rally though, stocks collapsed on Thursday with the Dow crashing by 1.063 points or 3.1% to 32,997. The S&P plunged 3.6% whilst the Nasdaq Composite was the worst off with a 5% loss. The last time the Nasdaq declined more than 5% was June 11, 2020.
Wall St extended its losses on Friday after release of a strong April jobs report that showed that the US economy added more jobs than expected. All told, the Dow, S&P and Nasdaq saw weekly losses of 0.2%, 0.2% and 1.5%, respectively, after rising Monday through Wednesday.
As far as the local market was concerned, the STI initially held up reasonably well in the early part of a holiday-shortened week, losing only a total of 13 points on Wednesday and Thursday.
However, in response to Thursday's US market plunge, the STI on Friday lost almost 52 points or 1.6%.
Spiking bond yields is part of the problem
Notwithstanding the dovish stance taken by the Fed, the market is still pricing in at least three more 50-point hikes before the end of the year. This in turn has sent bond yields surging – the yield on the 10-year US Treasury which started the year around 1.5% and had fallen on Wednesday, on Thursday shot up 12 basis points to 3.04%, the highest since 2018, and continued to rise, ending Friday at 3.13%.
However, yields on most short-term Treasuries declined on Friday, even after news of a strong jobs report. The 2-year yield fell 2 basis points to 2.68%.
China's slowdown also contributed
Concerns about the Chinese economy showed up in full force Thursday. China's Caixin purchasing managers' index, a gauge of economic activity, read 36.2 for April, down from 42 in March. A reading below 50 indicates economic activity declined.
If companies around the globe can't access enough supply from China to meet demand, economic activity and sales outside China will decline. The other concern is that companies' costs will keep rising, putting downward pressure on profit margins.
Thai Beverage resuming plans for listing of brewery unit
Among the more notable corporate announcements was that by Thai Beverage. The beer company said it is resuming plans to spin off and then list its brewery unit BeerCo on SGX, plans that had been deferred because of the pandemic.
In the financial year ended 30 Sep 2021, BeerCo posted a net profit after tax of S$342.5m and revenue of S$4.2b. After the announcement on Thursday, Thai Beverage's shares added S$0.025 or 3.7% at S$0.70.
Temasek's Azalea launches new series of bonds
Azalea Asset Management, an indirect subsidiary of Temasek Holdings, on Friday announced it is launching a new series of bonds backed by 38 private equity (PE) funds.
The indicative size of the new issue, which is to be called Astrea 7, is US$755m, which is around 39.6% of the underlying PE portfolio.
The issuance will have 3 clases, A-1, A-2 and B, but only Class A-1 will be available to retail investors.
The issue will open for applications on 19 May at 9am and close at noon on 25 May. The minimum retail application is S$2,000. Trading will start on SGX on 30 May.