Date: April 4, 2022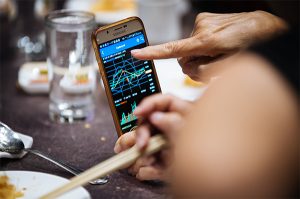 The STI gained 6 points or 0.17% at 3,419.11
The gain came despite a negative external backdrop
Keppel O&M and Sembmarine need more time to merge
Yangzijiang was in play after capital injection into proposed spin-off
SPH to cease trading on 7 April, to be delisted on 13 May
Aviation activity to return to pre-pandemic levels by late 2024: UOB-Kay Hian
US Treasury yield curve inverted after strong jobs report
The STI held firm, possibly boosted by the reopening of the economy
Despite no signs of when the war in Ukraine might end and notwithstanding concerns over high oil prices and the US Federal Reserve's determination to raise interest rates aggressively this year, the Straits Times Index this week held its ground, rising a modest 6 points or 0.17% to 3419.11.
A big part of this gain came on Friday, the first trading day of April when the index added 10.59 points in response to a 100-points rise in the Dow Jones Industrial Average futures. During Wall St's Friday session, the Dow ended 140 points higher at 34,818.
As for the STI, it had posted a gain of 5.1% for the month of March and 9.1% for the first quarter, making it one of the best performers in the Asia-Pacific.
According to most observers the market's ability to hold its ground was most likely because of ample liquidity and a view that a recession is not yet on the horizon. Moreover, economies are now beginning to open, adding to the optimism.
More time needed to merge Keppel O&M, Sembmarine
Keppel Corp and Sembcorp Marine (Sembmarine) last week said more time is needed to advance the proposed combination of Keppel Offshore & Marine (O&M) and Sembmarine.
The update came 9 months after talks were announced about the potential merger. The parties said they still need to complete due diligence, reach mutual agreement on transaction terms and finalise definitive legal documentation.
Both parties have thus committed to continue with exclusive negotiations and work towards a definitive agreement by 30 April.
Keppel O&M also said "significant progress'' has been made in its efforts to sell its legacy rigs and associated receivables to a separate company that would be majority owned by external investors.
Yangzijiang in play after capital injection into proposed spin-off
Yangzijiang's (YZ's) shares were in active play last week, hitting a 6-month high after the China shipbuilder announced it has increased the share capital of Yangzijiang Financial Holding (YZFH), the investment unit that it is proposing to spin off.
On Friday 25 March, YZ announced it increased YZFH's share capital, resulting in estimated net tangible assets of S$4.3b with some 4b shares.
On Monday last week, YZ's shares rose S$0.08 or 5.5% to S$1.54, a level last seen in Sep 2021. It ended that day at S$1.49 and the week at S$1.54.
All YZ shareholders will receive one YZFH share for each YZ share held.
Analysts believe YZ is on track to be rerated upwards once YZFH is spun off. Citi has a target price of S$1.98, whilst DBS Group's target is S$2.15. DBS said its target values YZFH at 0.7 times its book value or S$0.77, while the remaining shipbuilding business is valued at S$1.38.
YZ said YZFH will leverage in its "longstanding track record'' of investment management and debt investment in China and will diversify to special situations and new asset classes such as mezzanine financing and private equity.
SPH to cease trading on 7 April, to be delisted on 13 May
Shares of Singapore Press Holdings will cease trading on 7 April and they will be delisted on 13 May. This was announced on Friday after the court sanctioned a takeover-cum-privatisation offer from a consortium called Cuscaden Peak that is offering SPH shareholders either an all-cash option of S$2.36 per share or S$2.40, comprising S$1.602 cash and 0.782 SPH Reit via a scheme of arrangement.
Assuming the scheme takes effect on 28 April, shareholders can expect to receive payment from the consideration they opt for by 11 May.
Aviation activity to return to pre-pandemic levels by 2024: UOB-Kay Hian
In a report released last week, local broker UOB-Kay Hian called a "market weight'' on the aviation sector, citing industry experts saying activity will return to pre-COVID-19 levels by late 2024.
The broker issued a "buy'' on SIA Engineering and ground handling agent Sats with target prices of S$2.80 and S$4.65 respectively. SIA Engineering ended last week at S$2.56 and Sats at S$4.29.
However, it also called a "hold'' on SIA with a target of S$4.80, versus SIA's closing price on Friday of S$5.49.
Oil prices started to weaken
Oil prices fell sharply Thursday as the Biden administration announced a 'historic' release of 1 million barrels of oil per day from the country's reserves for the next six months.
The White House said the record release would serve as a bridge until the end of the year when domestic production ramps up.
West Texas Intermediate crude ended the previous week at US$113.90 a barrel but fell most days last week, driven by China's lockdown of Shanghai, its most populous city, initially positive signs in Russia-Ukraine peace talks and now reports of a huge US oil reserve release.
Strong US jobs report and yield curve inversion
The U.S. economy created 431,000 jobs in March and the unemployment rate fell, showing continued strength in the labour market's pandemic recovery even as the pace of job growth slowed down.
That could keep the Federal Reserve on track for a half-point interest-rate increase in May, as some officials have recently suggested.
On Friday, the yield on the benchmark 10-year U.S. Treasury note settled at 2.374% versus 2.43% for the 2-year yield, reflecting expectations that the Fed could start raising its benchmark federal-funds rate in half-percentage-point increments in coming meetings in an effort to tame inflation.