Date: April 15, 2019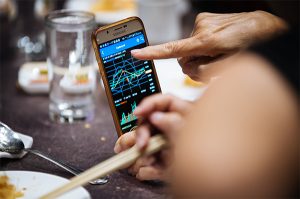 The STI rose 9 points or 0.3% for the week at 3,322.64;
Worries over possible US tariffs on Europe played a part;
Still no developments on US-China trade negotiations;
IMF cut its global growth forecast to lowest in 10 years;
US Federal Reserve minutes suggest rates will be held steady this year;
Consolidation in the local Reits sector as OUE units propose merger
US to impose tariffs on Europe?
Even as markets hold their breath for a settlement between the US and China over their trade differences, investors last week were rattled by related worries that lay elsewhere. These arose on Tuesday when US president Trump tweeted about imposing tariffs on US$11b worth of European products after accusing Europe of providing illegal subsidies to aircraft maker Airbus thus enabling the latter to sell its planes cheaper than the US's Boeing. His tweet came a day after the US released a statement about taking action against Europe for help given to Airbus.
According to news reports, the World Trade Organization in May last year ruled that Airbus had indeed received illegal subsidies; however, in March the WTO had also said that Boeing had received illegal tax breaks which gave it an economic advantage. As a result of the US's Monday statement, an EU spokesperson on Tuesday said the bloc "is starting preparations so that [it] can promptly take action based on the arbitrator's decision on retaliation rights in this case''.
Whatever the case, Wall Street stocks dived on Tuesday while bond prices rose in response. The US market however, recovered on Friday after positive bank earnings were announced and this should help lift prices in the local market on Monday.
FOMC minutes indicated dovish stance
The Federal Open Market Committee is likely to keep its federal-funds rate target steady at 2.25%-2.50% for the rest of the year, minutes of its March 19-20 meeting released Wednesday showed. But the policy-setting panel showed no inclination to lower its key policy interest rate, as the fed-funds futures market anticipates, in late 2019 or early 2020.
Although the policy approach towards rate hikes was described as "patient'', the minutes also added: "Some participants indicated that if the economy evolved as they currently expected, with economic growth above its longer-run trend rate, they would likely judge it appropriate to raise the target range for the federal-funds rate modestly later this year."
IMF lowered its growth forecasts – again
The International Monetary Fund last week cut its global growth forecast to the lowest level since the financial crisis, warning of significant downside risks to the world economy including trade tensions, pockets of political instability, mounting debt levels and increasing inequality.
The IMF lowered its growth forecast for 2019 to 3.3 percent from the previous level of 3.5 percent in its latest World Economic Outlook (WEO).
This is the third time in six months that the fund has revised its outlook downward. The IMF is projecting a decline in growth this year for 70% of the global economy.
In local news:
With the external environment as uncertain as it was, trading here was generally light, with daily volume hovering around the S$1b mark each day. The Straits Times Index traded within a narrow band before finishing the week at 3,322.64, a nett gain of just 9 points or 0.3%.
OUE Reits propose merger
On Monday, two OUE units announced a proposed merger. OUE Commercial Reit is proposing to pay each unitholder of OUE Hospitality Trust $0.04075 cash plus 1.353 new OUE C-Reit units. This translates to a deal valuation of $1.49b, with $74.6m in cash and the remainder by the issue of 2.5b new OUE C-Reit units valued at $0.57 each.
Analysts said the merger should prove positive for both sets of unitholders as it will create a bigger entity that should attract more liquidity and institutional investor interest over time. Parent company OUE Group will continue to hold a 48.3% stake in the enlarged Reit.
RHB said OUE Commercial REIT's proposed merger offer is fair, as the effective offer price is close to RHB's adjusted fair value. "With room for upside from a larger diversified asset base, cost savings and inorganic growth potential, we recommend investors to accept offer''.
"Besides being yield-accretive, the deal aims to benefit from: larger free float and liquidity which can result in potential index inclusions, tenant and asset class diversification, operational cost savings, potential lowering of funding costs and better inorganic growth potential. The combined entity will have total assets of S$6.8bn, making it the eighth largest S-REIT by asset size and third largest among the diversified S-REITs''.
Hi-P shares were under pressure
Also in focus was electronics manufacturer Hi-P whose shares came under pressure throughout the week. On Tuesday, the stock collapsed $0.23 to $1.63 on volume of 18m and the slide continued for most of the rest of the week. On Monday 8 April, Maybank Kim Eng issued a "sell'' on Hi-P, pointing out that the counter had gained 47% since 22-Feb (post-results), outperforming SGX-listed peers.
"Except for the resignation of the deputy CEO, there were no material announcements to suggest a shift in fundamentals. Amid guidance for flat YoY earnings, the stock appears overvalued at 14x FY19E P/E vs global peers' at 10.5x, and its own one standard deviation above 3-year mean of 12.3x. Hence, we downgrade the stock to SELL from HOLD'' said the broker as it set a target price of $1.22.

"In addition, the market may also be concerned about potential succession-planning challenges at Hi-P. Deputy CEO, Mark Su, has resigned to pursue other interests, after only five months into his job. This is HIP's second high-profile management departure in 1-2 years. In Feb-18, former COO Yong Inn Nam resigned four months after his appointment''.
Hi-P's shares ended the week at S$1.42.