Date: March 8, 2021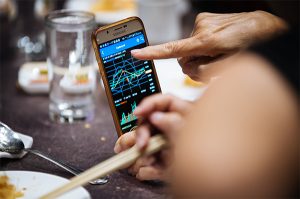 US Treasuries rose on Fed chief's comments, sparked selloff in stocks;
Markets stayed firm after a wobble, strong US jobs report helped Wall St recover;
STI regained the 3,000 level when it added 64 pts or 2.7% at 3,013.85;
Singapore's Feb market cap rose 0.6% to S$843b;
Oceanus saw heavy trading as it crashed, drew SGX query;
Aviation stocks surged, some analysts expressed scepticism;
China set 6% annual growth target
Rising US Treasury yields sparked selloff but markets quickly stabilised
The benchmark US 10-year Treasury yield climbed back above 1.5% last week after Federal Reserve Chairman Jerome Powell reiterated that there is "long way" to go before the central bank meets its goals but didn't signal any imminent plans to address the recent rise in yields.
Wall Street underwent a sharp selloff as a result but bounced back on Friday after release of a better-than-expected US jobs report. The local market in the meantime turned in a creditable performance, the Straits Times Index moving roughly in tandem with developments in the US market as well as in the Dow futures. Over the five days, the index rose about 64 points or 2.7%, regaining the 3,000 level along the way at 3,013.85.
US Fed chief's comments were said to have disappointed markets
In his comments, Mr Powell repeatedly sought to reassure the skittish markets that the Fed was nowhere close to pulling back on its massive support for the economy, even as he voiced hopes of better economic times ahead.
"We will be patient," he said. "We're still a long way from our goals." Powell's remarks are among the last from a US central banker before the Fed enters its blackout on public comment ahead of the March 16-17 policy meeting.
Some investors had expected the Fed might step up purchases of long-term bonds, helping push down long-term interest rates.
Bloomberg said that in a note to clients, Krishna Guha, vice chairman at Evercore ISI, had this to say about the Fed chair's performance: "Powell stays dovish but not dovish enough to prevent further increases in yields."
Reuters news quoted Scott Brown, chief economist at Raymond James in Florida saying "The market has been worried about the rise in long-term interest rates and the Fed chairman in his commentary didn't really push back towards this increase in rates and the market took it as a signal that yields could rise further, which is what has happened''.
Singapore's market cap was 0.6% higher in Feb at S$843b
The total market capitalization of the 687 stocks listed on the Singapore Exchange (SGX) as at the end of February was S$843.1b, about S$4.9b or 0.6% higher than January. The gain since October 2020 was S$110b or 15%. However, Feb's market cap was still 0.5% lower than Feb 2020.
Most of Feb's gains were led by the banks and aviation-related stocks such as SIA and SATS. Thomson Medical saw its market cap jump S$2.51b to S$4.27b after it returned to profitability. Malaysian glovemaker Top Glove lost S$3.2b during the month but was still the biggest gainer on a year-on-year basis, adding almost S$10b in market value.
Aviation stocks surged on vaccine news, hopes of travel returning
There was global push on airlines stocks last week that benefited Singapore Airlines and others in the aviation sector. The stock started the week at S$4.98 and ended at S$5.15 for a gain of S$0.17 or 3.4 %. Most of this occurred on Monday when the counter hit an intraday high of S$5.30 before ending the day at S$5.24. On the same day, SATS rose 1.82%, SIA Engineering 4.41% and ST Engineering 3.99%.
UOB-Kay Hian has a "hold'' on SIA with S$4.47 target whilst DBS considered the stocks "fully valued'' with a S$3.60 target. Analysts said recent news that Johnson & Johnson's single-dose COVID-19 vaccine has received approval from the US authorities probably helped add to rising optimism that air travel might soon resume.
The Business Times quoted an analyst as saying share prices might be "running ahead of fundamentals'' whilst another added "the markets are essentially casinos where traders and punters speculate in order to make a quick buck'', adding "the aviation market is still in dire straits, notwithstanding the rollout of vaccines''.
Seafood supplier Oceanus's shares crashed, drawing SGX query
Shares of seafood supplier Oceanus, which have been in play over the past few weeks on hopes of a turnaround, crashed last week, drawing a query from the SGX. On Tuesday, Oceanus lost S$0.008 or 11.1% at S$0.064 on volume of 453m, making it the most active stock that day.
This was followed by a S$0.022 or 34% crash on Wednesday to S$0.042 on turnover of 1.34b. In reply to the SGX query that day, the company said it was not aware of reasons for the unusual movements in its share price.
On the previous Friday Oceanus reported a net profit of S$8.6m for the full-year ended 31 Dec 2020 compared to a net loss of S$7.4m in 2019. Revenue was S$91.7m, more than nine times the previous year's S$9.6m.
China set growth target of over 6%
China on Friday said it is setting a modest annual economic growth target of 6% and pledged to create more jobs. Premier Li Keqiang said in his 2021 work report that "in setting this target, we have taken into account the recovery of economic activity''.
The 6% figure disappointed observers and the market as expectations had been for an 8% target.