Date: December 21, 2020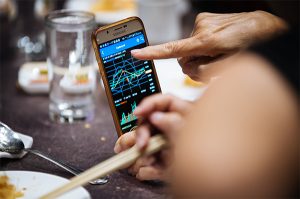 The STI gained 27 points or 0.9% at 2,848.98 last week;
Prices seem to be drifting after the rally in Nov and early Dec;
Support continued to come from positive vaccine news;
Pressure continued to come from negative economic developments;
Hi-P's boss made privatization offer;
Value of privatizations this year has exceeded total in 2019;
UK's Revolut aims to offer commission-free stock trading here;
NutryFarm's shares were in play, drew SGX query
Prices have run up strongly already, so market now in "consolidation phase''
An element of "buy in anticipation, sell on news'' may be creeping into daily trading now that markets have already rallied strongly ahead of positive developments such as the conclusion of the US Presidential elections which has given rise to hopes of a large stimulus package for the country's stalled economy, followed in rapid succession by announcements from various major drug companies that they have developed COVID-19 vaccines.
Now that the vaccines are about to be rolled out en masse around the world, equity markets seem to be pausing, entering what some call a "consolidation'' phase, a term typically used to describe a situation where market players are not sure of what to do next.
On the one hand, expectations are high that the worst of the COVID-19 pandemic could be behind us because of positive vaccine developments; on the other hand, the economic news has not been particularly encouraging and the outlook remains very clouded.
For example, Thursday's news of a surprise 4.9% drop in November exports for the Singapore economy, the second consecutive month of declines, was a sobering reminder of the difficult months ahead for the local economy.
As has always been the case for most of this year, Wall Street provided the main direction. Thursday's record highs came on the back of familiar drivers – signs that the ultra-easy monetary regime isn't going to change anytime soon, hopes that a large US stimulus bill – possibly US$900b – will soon be unveiled and vaccine optimism.
The upshot of all these forces – many opposing – on the local market was a 27 points or just under 1% gain for the Straits Times Index at 2,848.98. Not surprisingly, banks and Jardine stable stocks were the main index movers – Friday's 9.04 points loss coming from falls in DBS, UOB and Jardine C&C.
Hi-P's boss makes privatization-cum-delisting offer
Integrated contract manufacturer Hi-P International's chief executive and controlling shareholder Yao Hsiao Tung on Friday made a voluntary unconditional general offer for the company at $2 per share in order to delist the company.
Mr Yao does not intend to raise the offer price but has reserved the right to do so if a competitor emerges. As the offer is unconditional, shareholders who accept will receive payment within 7 business days of their valid acceptances being received.
Mr Yao holds 83.4% of Hi-P's shares currently and his wife owns 0.1%. Buying over the remaining 16.5% will cost him $288.7m. The company has not raised capital from the market since 2004 and Mr Yao believes that Hi-P is unlikely to do so in the foreseeable future.
The offer price values Hi-P at $1.6b and the price is a 13.6% premium over the counter's last traded price on 14 Dec. It is also a 160% premium over the company's net asset value as at 30 June.
So far in 2020, 17 privatizations worth US$5.8 have been conducted here
The Business Times on Saturday reported that although the number of privatizations in 2020 so far is 17 compared to the 19 done for the whole of 2019, the value this year is US$5.8b versus US$3.4b last year.
This year's figure includes the latest involving Hi-P International as well as companies such as Lafe Corp and Huan Hsin whose controlling shareholders were forced to make exit offers because they had repeatedly failed to meet listing requirements for market value and profitability.
Prominent names this year who have left the public sphere include BreadTalk, Perennial Real Estate Holdings, SK Jewellery and Soilbuild Business Space Reit.
Delistings are not confined to Singapore – for example, Hong Kong recently reported a 3-year peak in privatizations after recording 54 deals worth US$22.5b up to mid-Dec, 160% more than 2019. Malaysia's stock market has seen at least 10 this year.
UK's Revolut to offer commission-free stock trading here
The Business Times on Wednesday reported that UK fintech unicorn Revolut is ramping up its expansion in Asia and this includes offering commission-free stock trading for the local market.
The newspaper said Revolut has submitted a formal application to the Monetary Authority of Singapore (MAS) to vary its current Major Payment Institution license to include the business of providing as digital payment token service. It has also informed MAS of its intention to launch commodities trading and to pursue a capital markets services license.
NutryFarm's shares were in play
Shares of investment holding company NutriFarm were in active play last week, drawing a query from Singapore Exchange RegCo on Tuesday when the price shot up six cents or 17.1% to $0.41.
The company, formerly known as LottVision, replied that it did not know of reasons to explain the unusual activity. The shares have more than doubled this month, having ended at $0.15 on 30 Nov.
The company's health operations are in China. On 24 Nov, NutryFarm applied to SGX for an extension until 29 Dec to release its unaudited financial results for the year ended 30 Sep 2020 as well as more time to hold its annual general meeting. The reason given was "much practical difficulties in the preparation of its financial statements due to the COVID-19 pandemic which has resulted in the Company's finance team being unable to operate at full capacity''.
It added that its main operating subsidiary in China, Nutryfarm (Chengdu) Biomedicine Limited situated in the Sichuan province, "has been under various restrictions and has faced various constraints'' such as social distancing that has limited the number of staff that can be in office at any one time.