Date: February 6, 2023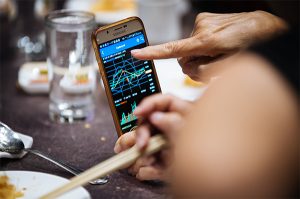 The US Federal Reserve delivered the expected 25-basis points rate hike
Despite Fed warnings and a strong January jobs report, Wall St closed mainly higher but the STI fell 0.3% to 3,384.29
Banks were in focus as their profits will be affected if rates come down
Keppel Corp reported 40.6% fall in 2H profit, shares take a beating
Analysts still positive on Keppel despite profit fall

The Fed delivered what was widely expected
The pivotal event during the week was Wednesday's US Federal Open Markets Committee (FOMC) meeting, at which the US central bank voted unanimously to lift interest rates by a quarter of a percentage point, marking the eighth increase in the past year and bringing the target for the federal funds rate to a range of 4.5% to 4.75%.
The rate hike had been widely expected prior to the meeting. This time round the quantum was much smaller than previous hikes which had ranged between 50 to 75 basis points. In short, the Fed delivered what the market had expected.
Wall St shrugged off Fed chairman Powell's comments
However, although Fed Chairman Jerome Powell sought to keep the focus not on the downshift in the pace of tightening but instead on the bank's future steps – and on the "ongoing increases" in rates, potentially multiple, that bank officials see on the horizon, the US market chose to shrug off these warnings and instead appeared to latch on to hopes that an end to rate hikes is approaching soon.
The outcome was a relatively firm Wall Street but as far as the Straits Times Index (STI) was concerned, it underwent a patchy five days, falling on three days and rising on two.
The three local banks were in focus
The net outcome was a 10 points or 0.3% loss at 3,384.29, largely because of rises and falls in the banks, whose earnings are supposedly expected to be hit if interest rates peak and start to come down.
On Thursday for instance, after the FOMC meeting, the prices of the three local banks dipped sharply, resulting in a 13.97 points loss for the STI that day. DBS was the index's top loser on Thursday, losing S$0.72 or 2% at S$35.08.
However, on Friday, prices of the three banks rebounded strongly – DBS rose S$0.42 or 1.2% to S$35.50, UOB gained S$0.53 or 1.8% at S$30.16 and OCBC jumped S$0.12 or 0.93% to S$13.
Daily trading volume has consistently hovered above the S$1b mark since the start of the year. Last week's average was S$1.32b versus S$1.4b the week before.
Wall St's reaction to the Fed hike
The market's optimism on Wednesday underscored how investors have increasingly begun to shrug off Powell's warnings that further tightening will be forthcoming.
As much as Powell emphasized that the encouraging process of disinflation had only just begun—and he repeatedly highlighted areas where price growth is still accelerating—markets appeared to latch on instead to his acknowledgements that some progress is already being made.
"The Fed tried to deliver a reality check to markets," wrote Seema Shah, chief global strategist of Principal Asset Management. "However, the overriding takeaway from the press conference will be that, even with two more rate hikes left to go, this is a Fed that is approaching the end of the tightening cycle."
However, the January jobs report gave the market a reality check. The US economy added 517,000 jobs, much higher than the expected 187,000 increase and above December's 260,000 jobs, which was revised upward.
The unemployment rate dipped to 3.4%, the lowest rate since May 1969, when it was also 3.4%. Wages grew 4.4%, lower than the 4.6% increase for December. Because more people working means more people spending money, potentially keeping inflation elevated, the market fell on Friday.
Over the five days, the Dow Jones Industrial Average lost 0.2%, though the S&P 500 and the Nasdaq gained 1.6% and 3.3%, respectively.
Keppel reported 40.6% drop in 2H profit, shares take a beating
Keppel Corp on Thursday reported a 40.6% year-on-year decline in net profit for its second half ended 31 Dec 2022 to S$429.1m on the back of lower revenue from continuing operations. For the full year, net profit was 9.4% lower at S$927m.
A final cash dividend of S$0.18 per share has been proposed. Including the S$0.15 interim dividend that was paid in Aug 2022, total dividends for FY2022 will be S$0.33.
On Friday, Keppel's shares came under heavy selling losing S$0.39 or 5.1% at S$7.26 on volume of 12.4m on a day when the ST added 20.61 points or 0.61% at 3,384.29.
Analysts still positive on Keppel
UOB-Kay Hian responded to Keppel's results by saying the company had a "a solid year overall'' with better performance in its infrastructure, asset management, data centre and M1 businesses.
It maintained a "buy'' with a lowered target price of S$9.68 versus S$10.11 previously.
CGS-CIMB maintained its "add'' on Keppel and raised its target price to S$10.04 from S$9.37, implying a potential upside of 38.5%.
Selected earnings in brief
CapitaLand Ascendas REIT reported a distribution per unit (DPU) of S$0.07925 for its second half ended 31 Dec 2022, up 4.3% from a year ago. The REIT manager noted that its portfolio achieved positive average rent reversion of 8% for leases renewed in FY2022. Gross revenue was up 7.1% to S$686m for the half year, whilst net property income grew 3.5% to S$492m.
CapitaLand Ascott Trust reported a 47% increase in distribution per stapled security to S$0.0333 for the half year ended 31 Dec 2022. Revenue for the period rose 69% to S$353.8m whilst total distributable income rose 54% year-on-year to S$113.2m for the six months.
CapitaLand China Trust reported a 24.4% drop in DPU to S$0.034 for its second half ended 31 Dec 2022. This was despite the REIT releasing S$3.6m in 2H from the amount available for distribution retained in 1H. Distributable income fell 20.3% to S$56.9m, impacted by lower retail performance, higher interest expenses and the absence of one-off proceeds. The decline in 2H performance can also be attributed to higher rental relief provided for tenants whose operations were affected by COVID-19 lockdowns.
Keppel DC REIT announced a 4.8% increase in distribution per unit to S$0.05165 for its second half ended 31 Dec 2022. Gross revenue was up 4.3% to S$141.8m for the six months and net property income (NPI) grew 4% to S$129.3m. For the full year, gross revenue rose 2.3% S$277.3m and NPI was up 1.8% to S$184.9m.
Mapletree Pan Asia Commercial Trust's distribution per unit stayed flat at S$0.0242 for its third quarter ended 31 Dec 2022. This was due to higher finance costs its manager said. Gross revenue was up 84% to S$239.8m and net property income rose 76.8% to S$179.4m. The REIT was formed by the merger of Mapletree Commercial Trust and Mapletree North Asia Commercial Trust in July 2022.