Date: April 26, 2021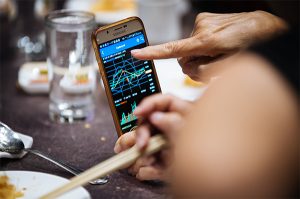 Wall Street's movements continued to set the direction;
US market wobbled on Thursday after news of Biden's tax plan but recovered on Friday after positive economic news;
Bitcoin and other cryptocurrencies collapsed on the tax news;
US Treasuries were mainly flat for the week;
The STI fell below 3,200, down 7 points or 0.02% at 3,194.04;
Countries in Asia like India and Japan continue to struggle to contain the virus
Sembcorp Industries, Aztech Global were in play after positive analyst reports were issued;
Econ Healthcare relisted after 9 years
Biden's tax plan rocked the US market but it recovered
Trading in the local stock market last week followed familiar lines as prices tracked overnight movements on Wall Street at the start of each day's trading, followed by rises and falls in the futures market for US indices as each day unfolded.
It made for a relatively volatile week, given that US stocks dipped sharply on Thursday on news that US President Joe Biden planned to raise taxes on the wealthy which involves an additional tax on capital gains.
Support, as has been the case for most of this year, came from optimism that the COVID-19 situation is coming under control and this in turn has led to hopes that normal economic activity might resume soon. So it was that on Friday, US stocks recovered after the release of positive economic data and quarterly earnings reports.
The STI fell below 3,200 but sentiment remained firm
As for the Straits Times Index, its 6.26 points rise on Friday to 3,194.04 came in tandem with a rise in the Dow futures, ahead of the US market's Friday rally. It also meant that the STI's loss for the week was reduced to just 7 points or 0.022%.
India and Japan among countries still struggling with COVID-19
However, even as the US gets to grips with the pandemic, concerns have erupted elsewhere, mainly in parts of Asia. India for example, last week reported record infections above 300,000 per day, whilst Japan is also struggling to contain the virus -on Friday, the country declared "short and powerful" states of emergency for Tokyo, Osaka and two other prefectures three months before the Olympics.
US Treasury yields were mainly flat
The yield on the benchmark 10-year Treasury note rose as high as 1.587% during Thursday's session before settling at 1.554%, down from 1.566% at Wednesday's close.
Yields, which rise when bond prices fall, climbed on Thursday after the Labor Department said the number of workers applying for jobless benefits fell to 547,000 last week—the lowest level since the pandemic started last spring and better than forecasts by the private sector. Yields then fell at the start of the U.S. session before resuming their climb later in the day.
On Friday, the 10-year yield rose 1.2 basis points to 1.566%, trimming its weekly decline to 0.5 basis point. The 2-year yield was up 0.6 basis point to 0.157% but leaving it down 0.6 basis point for the week, while the 30-year bond yield was up 1.1 basis points to 2.251%, paring its weekly drop to 0.9 basis point.
Bitcoin and other cryptocurrencies fell victim to tax fears
Bitcoin and other digital currencies plunged on Friday on news of US President Joe Biden's proposed capital gains tax hike.
Bitcoin, the biggest and most popular cryptocurrency, slumped 5 per cent to US$48,8867, falling below the US$50,000 mark for the first time since early March, while smaller rivals Ether and XRP fell around 7 per cent.
Sembcorp and Aztech were among the stocks in focus
Sembcorp Industries' (SCI's) shares surged last week on the back of a slew of analyst upgrades, closing at a 14-month high of S$2.13 on Monday. The last time the stock closed at this level was in February 2020, four months before the company announced in June 2020 that it planned to recapitalize and demerge its loss-making subsidiary Sembcorp Marine.
HSBC was among the houses to upgrade the counter, raising its target price from S$1.68 to S$2.61, which implies a 2021 price-book of 1.3, slightly higher than SCI's peers.
Meanwhile, Credit Suisse initiated coverage on SCI with a S$2.40 based on a sum-of-parts valuation which implies a price-book of 1.2. The research team believes most of SCI's renewables capacity additions would be in India, supported by the country's target to double its renewables capacity to 175 gigawatts by 2022.
SCI ended the week at S$2.21 having gained S$0.03 on Friday with 7.9m traded.
Elsewhere, shares of Aztech Global on Friday jumped S$0.07 or 5.22% to S$1.21 on volume of 20.9m. Maybank Kim Eng on Thursday initiated coverage of the stock with a "buy'' and a target price of S$1.86 based on 18 times core FY2021 earnings, which it said is justified relative to the company's peers because of Aztech's superior growth and margin prospects.
"On FY22E, Aztech is trading at 10x P/E (price/earnings) and our target price infers 12.9x. This is attractive relative to Valuetronics/Venture, which are trading at 12.2x/15.5x…respectively'' said the broker.
Econ Healthcare relisted on SGX
Private nursing home operator Econ Healthcare relisted on the local exchange last week after it was privatized back in 2012.
It ended its debut last week on Monday on Catalist at S$0.29, S$0.01 above its offer price of S$0.28. However, it then took off, ending the week at S$0.405. The company raised net proceeds of S$11.5m which it intends to use for expansion here and overseas, particularly Malaysia and China.
Maybank Kim Eng: "Singapore isn't so boring anymore''
In a 19 April report, Maybank Kim Eng said often, Singapore is classified as the 'boring' market compared to its higher growth regional cousins. "This is clearly changing. Recovery is firmly underway with 1Q21 GDP beating expectations. MKE's economics team has made chunky upwards revisions and now expect GDP to grow 6.2% in 2021''.
"Strong growth has positive implications for VALUE stocks, which have been massively underperforming GROWTH here. Together with higher interest rates, rapidly approaching herd immunity, we think the market is in early stages of a VALUE rotation…These positives have us raising our 12-month STI target to 3,537, which is 11% higher from now''.