Date: May 24, 2021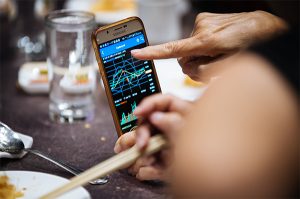 Wall St's inflation worries were main focus as STI rose 2% to 3,117.89;
US Fed hinted at reducing asset purchases;
Stocks bounced in second part of week on strong US economic data;
Bitcoin plunged 28% after China tightened;
SIA reported record S$4.3b loss, analysts reduced targets;
Key medical suppliers have been in play;
Maybank Kim Eng: new restrictions unlikely to derail recovery.
The STI rebounded 2% after previous week's 4.5% plunge
Wall Street and its concerns over possible inflationary pressures provided the main focus last week. As always, the Straits Times Index tracked movements in the Dow futures, finishing the week a net 62 points or 2% at 3,117.89.
This rise meant the index managed to recoup some of the 145 points or 4.5% it had lost the week before after additional curbs were imposed by the government in view of a surge in COVID-19 cases.
US market's worries – inflation, asset purchases and the improving economy
Up to Wednesday, the S&P 500 had dropped in six of the previous eight sessions amid growing concerns about rising inflation and the possibility the Federal Reserve will tighten policy in response.
Minutes from the Federal Reserve's last meeting showed that policy makers thought it may be appropriate to start talking about reducing bond purchases if economic activity continues to pick up.
"A number of participants suggested that if the economy continued to make rapid progress toward the Committee's goals, it might be appropriate at some point in upcoming meetings to begin discussing a plan for adjusting the pace of asset purchases," the meeting summary stated.
On Thursday, Reuters reported that Dallas Fed President Robert Kaplan said that he would like to see the central bank start to trim its asset purchases sooner rather than later.
However, US stocks bounced on Thursday after initial jobless claims came in lower than expected. Initial jobless claims continued to decline, falling to 444,000 in the latest week, according to the Labor Department, a sign that the economy is continuing its recovery.
In the bond market, the 10-year US Treasury yield first rose to 1.68% on Wednesday before backing off to 1.63% on Thursday. It was largely unchanged on Friday.
Bitcoin plunged 28% last week
Bitcoin came under severe pressure last week, most of which took place on Friday when it fell more than 11per cent. This followed news that China is doubling down on efforts to prevent speculative and financial risks by cracking down on mining and trading of the largest cryptocurrency.
China's Financial Stability and Development Committee, chaired by Vice Premier Liu He, singled out bitcoin as the asset it needs to regulate more. The world's largest and most popular cryptocurrency traded about 11.6% at US$35,928 after holding the US$40,000 level for most of the Asian and London sessions. Since hitting an all-time high just under US$65,000 in mid-April, bitcoin has fallen about 45%.
SIA reported a record S$4.3b loss
Singapore Airlines last week reported a S$.4.3b net loss for the year ended 31 March, its worst performance ever. This led to analysts reducing their target prices for the stock.
CGS-CIMB upgraded its call on SIA to "add'' but lowered its target from S$6 to S$5.64 while UOB-Kay Hian's "sell'' came with a target price cut from S$4.40 to S$4.15 to factor in dilution from the airline's proposed issue of S$6.2b in mandatory convertible bonds. Meanwhile, OCBC Investment Research has a "hold'' on the stock and has lowered its fair value estimate from S$4.80 to S$4.75.
SIA shares ended the week at S$4.77.
Key Medical Suppliers On The Move: SGX
The Singapore Exchange's (SGX's) investor education portal My Gateway last week reported that Singapore's five largest medical suppliers by market capitalisation have a combined market value of S$22.6 billion, with a combined average daily turnover of S$27 million in the 2021 year-to-date.
Four of the stocks are rubber glove manufacturer and distributors – Top Glove, US Healthcare, Riverstone and Sri Trang,  whilst Medtecs International Corporation supplies and distributes personal protective equipment.
Two of the stocks are Catalist listings – Medtecs and UG Healthcare Corporation. The secondary listing of Sri Trang Gloves (Thailand) PCL ("STGT") began trading on SGX last week after making its debut on the Mainboard on 10 May.
"Using the returns of the STGT primary listing in Thailand, together, the five stocks have averaged a 22.1% total return in the 2Q21 quarter-to-date. Three of these stocks also went ex-dividend over the past seven weeks.''.

''Riverstone Holdings was the strongest performer of the five stocks in the 2Q21 quarter-to-date, with a 26.6% total return. For its 1Q21 (ended 31 Mar) the Group reported a 1,021.7% YoY surge in net profit attributable to shareholders to RM522.7 million, with the blended gross profit margin at 68.6%'' said My Gateway.
Maybank Kim Eng: New restrictions unlikely to derail recovery
In a 17 May report, Maybank Kim Eng said the new restrictions could affect frontline domestic demand sectors such as F&B and retail. "However, these make up only 2.4% of GDP. At the same time, these sectors are better prepared than when the 2Q20 'Circuit Breaker' was imposed – with increased digitalization, delivery logistics and government support'' said MKE.
"The larger drivers for economic growth are external: semiconductor manufacturing, pharma, exports, finance, infocomm services. These are driven by global growth particularly from recovering US, Europe and North Asia. Indicators here remain robust. As a result, MKE's economic team is maintaining their +6.2% 2021E GDP forecasts''.
The broker said although news of rising virus numbers could raise market volatility, it is maintaining its target of 3,537 for the STI.