Date: April 25, 2022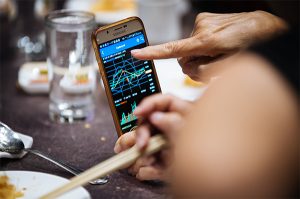 The Straits Times Index gained 26 points or 0.8% at 3,361.11
Rise could be short-lived following Wall Street's Friday plunge
US stocks under pressure from rapidly rising bond yields
US Fed: 50 basis points rate hike likely in May, possibly even 75
Singapore to lift most curbs on Tuesday onwards
Yangzijiang's finance arm to list on 28 April
Jardine C&C's reply to SGX: Purchase by major shareholder could be reason for Thursday's unusual movement
Private home price growth slowed in Q1 due to cooling measures
IMF cut its global growth forecasts
The STI's 4-day winning streak could be under threat this week
After a plunge on Monday, the Straits Times Index then enjoyed a four-day winning streak that enabled it to finish the week with a net gain of 26 points or 0.8% at 3,361.11. Daily volume averaged S$1.22b, which was in keeping with turnover done in recent weeks.
That bounce will however, come under threat this week following Wall Street's Friday nosedive that saw the Dow Jones Industrial Average plunge almost 1,000 points or 2.8% to 33,811.4, its worst day since 28 Oct 2020. For the week, the S&P 500, the Dow and the Nasdaq dropped 2.7%, 3.9%, and 1.9%, respectively.
US stocks plummet as bond yields spike up
US stocks on Friday came under pressure after the two-year US Treasury yield rose to 2.71%, its highest close since December 14, 2018. It hit as high as 2.78% during trading after having closed Thursday at 2.69%.
US bonds under pressure after comments by Powell, Bullard
The move comes a day after US Federal Reserve Chairman Jerome Powell reiterated the Fed could raise interest rates by half a point in May, more than the standard quarter-point increase as the central bank tries to bring runaway inflation down as quickly as possible, something that would also put a dent in economic growth. The central bank has laid out a projection of 10 more potential rate hikes from here.
Speaking as part of a panel of top economic policy officials for a debate on the global economy, Powell said a half-point interest-rate increase "will be on the table" during the May policy meeting and noted that many central bank officials already felt such a move was appropriate during the March meeting.
This comes after Federal Reserve Bank of St. Louis President James Bullard earlier in the week said that he wouldn't rule out an interest rate hike of 75 basis points.
Singapore to lift most pandemic curbs from 26 April
If US interest rate expectations are likely to weigh on stocks, news that most Covid-19 restrictions will be dropped from Tuesday should help provide support as it would mean a return to economic normalcy.
On Friday, the Government announced that current measures under 4 of the 5 parameters in the Safe Management Measures framework will be lifted, including caps on group sizes and the need for safe distancing.
With the latest easing, domestic activity is expected to bounce back, whilst companies will benefit from greater business travel – including meeting, incentive, conference and exhibition events – and the return of more staff to workplaces.
Singapore International Chamber of Commerce chief executive Victor Mills was quoted by The Business Times: "We are now moving into the living with Covid phase'' and that the news is "good for the economy and for people's mental and physical well-being''.
Yangzijiang's finance arm to list on 28 April
China shipbuilding firm Yangzijiang Shipbuilding last week announced that its proposed spin-off of its investment segment known as Yangzijiang Financial Holding (YZJFH) has been approved by its shareholders and that it will list on SGX at 1pm on 28 April.
The company also announced that on the same day, YZJFH will be added to the STI, as well as the FTSE ST Mid Cap Index, FTSE China Index and FTSE ST All-Share Index.
On Friday, the first day that Yanzijang traded ex-entitlement of YZFH, the counter closed at S$0.965 on volume of 172m shares, making it the day's most active stock by value.
Growth in private home prices slowed in Q1
Private home prices grew 0.7% quarter-on-quarter in Q1 2022, moderating significantly from the 5% in Q4 2021. This was to be expected, given that the Government had introduced a fresh round of cooling measures in December 2021.
However, despite the slower pace, private home prices did rise for an 8th consecutive quarter to hit a historical high.
Jardine C&C's unusual trading could be due to majority shareholder's purchase
The Singapore Exchange on Thursday queried Jardine Cycle & Carriage after the latter's shares jumped S$1.37 or 5.4% higher at S$26.87 on volume of 912,000.
On Friday, the company said Jardine Matheson had made a single block trade of 80,000 shares "at or around the prevailing market price''. It added that no disclosures were made as the purchase did not trigger any disclosure obligations and that it does not believe the purchase was material non-public information that called for its dislosure.
Jardine C&C's shares on Friday added S$0.10 at S$26.97.
IMF cut its global growth forecasts again
The International Monetary Fund on Tuesday again cut its 2022 and 2023 economic growth outlook to 3.6%. The estimates are down from its January expectation of 4.4% for this year and 3.8% next year.
"Overall economic risks have risen sharply, and policy tradeoffs have become even more challenging," says IMF Chief Economist Pierre-Oliver Gourinchas in a blog post, adding that he now expects inflation will remain elevated for much longer. Central banks may need to tighten more aggressively as the risk of inflation expectations moving away from their targets increases, he cautions.