Date: September 17, 2018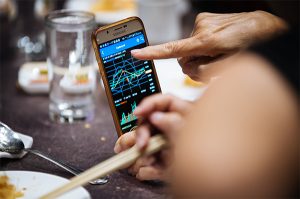 STI gained 0.9% over the week on hopes that US-China trade talks will resume;
Emerging market contagion worries also weighed on sentiment;
Indonesia's economic worries featured prominently;
China's stock markets remained weak because of trade frictions with US;
Turnover on SGX was thin as the market softened;
Offshore oil and gas stocks were firm in tandem with oil prices;
10-year US Treasury yield closed at 3%.
As long as the US and China remain at loggerheads on trade, it's difficult to envisage much upside for stock markets. This was very much the case last week when trade war worries continued to inflict damage on local stocks last week, with the Straits Times Index sliding to an 18-month low on Tuesday when it dropped 11.01 points to close that day at 3,120.92. It was the STI's 5th consecutive drop.
However, thanks to overtures from the US that it hopes to re-open negotiations with China soon, the index then managed three consecutive gains. For the week, it added 27 points or 0.9% to end at 3,161.42.
It is important to note however, that the Singapore market is not alone in suffering from trade concerns. Hong Kong's Hang Seng Index for example, on Tuesday closed at its lowest since July 2017.
Emerging market woes continued
In addition, emerging markets everywhere have been sold off, largely because of fear of contagion from Turkey and Argentina. The two countries have been in the headlines over the past month because of various economic problems, with Turkey also in a trade standoff with the US.
Closer to home, the Indonesian rupiah on Monday fell to its weakest level against the dollar in more than 20 years, prompting the country's central bank to say that it will intervene. The currency dropped to 14,777 per US dollar, the lowest since 1998's regional crisis, taking its loss for the year to 9%.
Analysts point to the country's large currency account deficit and emerging market worries stemming from Turkey and Argentina's problems as the main causes of the slide. As a result, stocks listed in Singapore with exposure to Indonesia such as Golden Agri Resources and Jardine Cycle & Carriage have been badly hit over the past few weeks.
Oil and gas stocks in play
On a brighter note, oil and gas stocks such as Keppel Corp and SembCorp Marine were well-supported last week. DBS equity research on Wed recommended keeping a watch on the sector as oil prices are set to test their 2018 highs and singled out SMM as being most sensitive to changes in oil prices.
Turnover remained low
Daily volume in the local market has been thin, ranging last week from a low of S$866m on Tuesday to a high of S$1.1b on Thursday. The broking industry's ballpark breakeven amount is believed to be S$1 billion. Brokers spoken to reported virtually no retail business, with one saying, "the index tells only one side of the story, if you look beyond it, the decimation in the broader market is very painful''.
Apart from pressure on Indonesian-linked stocks, there were few other features of interest in daily trading. One was that Thai Beverage's shares encountered some pressure mid-week after Bloomberg news agency reported that the company is marketing bonds for what would be the biggest-ever corporate note sale in Thailand, another was that RHB Research maintained its "neutral'' outlook for the property sector – perhaps not that surprising given that the government just two months ago announced a fresh round of property cooling measures.
"We see no near-term catalysts for players with larger exposure to Singapore's residential sector'' said the broker, adding that it prefers CapitaLand because the property giant is likely to be not that badly affected by July's curbs.
In the US bond market, the 10-year Treasury note yield traded at around 2.97% throughout the week but crossed 3% on Friday. It was the tenth time this year – the most recent being 2 Aug – that the yield has reached a level seen as being a possible tipping point for stocks.
CNBC on Tuesday quoted Larry Benedict, CEO of The Opportunistic Trader as saying Wall Street could suffer a selloff if the 3% level is breached on the upside.
"There is a huge divergence between the U.S., Asian and European equities," he said. "We think that once the 10-year hits 3 percent, that could trigger an unwinding out of U.S. equities and potentially into Europe and Asia."
US-China trade worries
News on Wednesday that the US government, led by Treasury Secretary Steven Mnuchin, has extended an invitation to Beijing for a fresh round of trade talks helped Wall Street reverse its intraday loss that day. However, it's worth noting that efforts to end the trade war have fizzled so far.
Bloomberg on Thursday reported that officials from both countries have met four times for formal talks, most recently in August, when Treasury's undersecretary for international affairs, David Malpass, led discussions in Washington with Chinese Vice Minister Wang Shouwen.
"But those talks ended without a breakthrough, as the U.S. submitted a tweaked list of demands that Beijing had previously said was unworkable, including a condition that China reduce its trade surplus with America'' reported Bloomberg.
On Friday, news reports emerged that US president Trump still wants to impose tariffs on US$200b worth of China's goods even if trade talks were to start.
Wall Street continued to rise but bearish voices are growing
US stocks last week were firm, thanks to revived hopes that trade talks between the US and China would end well. However, Goldman Sachs and JP Morgan last week weighed in with their views on where markets are headed if a full-blown trade war was to erupt.
In separate notes, strategists at both firms estimated the possible earnings hit that Corporate America might suffer, with Goldman's chief strategist David Kostin going so far as to call a bear market under a scenario if the US was to impose a 10% tariff on all imports.
Meanwhile, JP Morgan's Dubravko Lakos-Bujas said "Trade escalation could be a significant drag on forward EPS (earnings per share), especially next year''.