Date: November 18, 2019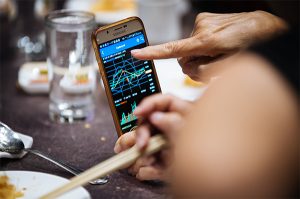 The Straits Times Index dropped 25.44 points or 0.7% to 3,238.86;
A cloud descends on US-China talks after US denials;
US Treasury yield curve isn't inverted but yields slipped sharply;
US Federal Reserve signalled that rates will be on hold for now;
HK protests escalated and Singapore-owned mall was damaged;
DBS's earnings beat expectations;
Singtel reported its first-ever quarterly loss
US-China trade: deal or no deal?
What a difference a week makes. Seven days ago, stocks were riding high on what looked like a major breakthrough in US-China trade talks. This was because China had just announced that a "Phase One'' deal would soon be signed, an announcement that gave rise to hopes that tariffs on both sides would then be rolled back. Even if it was only a first step in a long process towards resolving the 2-year long trade dispute, it was at least an encouraging start.
That such is the case is now in doubt after US President Trump said at the start of the week that no such agreement had been made. Furthermore, in a mid-week speech, he added that more tariffs could still be levied if China doesn't agree to US demands. Although it rattled markets at the time, observers said there was really nothing new to be learned from his speech.
Wall Street hardly budged during the first four days of the week, though Asian markets came under pressure, partly because of escalating political tensions in Hong Kong where protestors continued their fight against the government. Over the course of five days, the Straits Times Index finished around 0.7% lower at 3,268.84, notwithstanding a 7-points bounce on Friday.
The latest on the US Treasury yield curve
As pessimism grew over whether a trade deal would be struck soon, money was shifted into US Treasuries, pushing prices up and yields down. The 10-year Treasury yield fell below 1.9% whilst the 2-year dropped below 1.8%.
Wither US interest rates?
As for the Federal Reserve, Fed Chairman Jerome Powell repeated the U.S. central bank's view that monetary policy should stay on hold unless the economic outlook materially changes. Some observers however, noted that Powell's suggestions that he would "respond accordingly" to the continuing risks in the economy, suggested that the policy stance wasn't completely independent of new data.
Hong Kong's problems continue and spill over to region, MNACT is hit
On Tuesday night, Festival Walk, a Hong Kong shopping centre owned by Singapore's Mapletree North Asia Commercial Trust (MNACT) was attacked by protestors who set fire to a Christmas Tree and smashed glass panels at the entrance to the mall. As a result, MNACT's units took a hit, dropping $0.06 or about 5% on Wednesday to $1.16.
In an announcement, MNACT said the mall had sustained "significant damage''. The Reit derives almost 70% of its revenue from Hong Kong.
DBS's figures beat expectations
On Monday, DBS announced that its net profit for the third quarter climbed 15 per cent to S$1.63b versus expectations that the figure would be S$1.57b, boosted by loan growth, record fee income and higher trading gains. DBS declared an interim one-tier tax-exempt dividend of 30 Singapore cents for the third quarter. It will be paid on Nov 29 after books closure on Nov 19.
In an upgrade on DBS last week, Maybank Kim Eng said the bank's core earnings for the first 9 months of the year were well ahead of estimates due to higher non-interest income and better cost management.
"In our view, DBS's post GFC (great financial crisis) fundamental shift towards commercial banking from volatile universal banking is bearing fruit with a business mix that can effectively navigate regional uncertainty'' said the broker as it set a $29.92 target price.
Singtel reported first-ever quarterly loss
Singtel on Thursday reported a second quarter loss for the period ended 30 Sep of $668m compared to $667m last year, mainly because of having to take a share of a key associate's provision for sums claimed by the Indian government.
The telco's chief executive Chua Sock Koong said the provision came "an unprecedented, surprise announcement from the Supreme Court'' in India which ordered telecom operators to pay the state billions in past dues. This led Singtel's associate Bharti Airtel to book an exceptional provision of S$5.49b of which Singtel's share is $1.93b.
Excluding Bharti Airtel, net profit would have been up 4% year-on-year, even as revenue dropped 2.8% to $4.15b.
Ms Chua cited free cash flows which is why Singtel is standing by its dividend policy of 17.5 Singapore cents for the year to 31 March 2020. The stock on Friday plunged $0.12 or 3.64% to $3.18 on volume of 44.7m.