Date: December 28, 2020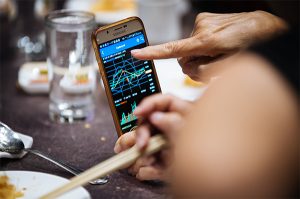 Recent consolidation continued last week;
STI slipped 6 points or 0.2% to 2,842.04;
US stocks hit new highs, shrug off Trump criticism of stimulus Bill;
Europe in lockdown as new virus strain emerged in UK;
Maybank Kim Eng recommended Hi-P minorities accept $2 offer;
Penguin International shares were in play;
SIA has spent 80% of its rights issue proceeds;
Keppel Land to sell Keppel Bay Tower to Keppel Reit;
Analysts expect STI to end 2021 at 3,000-3,200
The consolidation continued
Last week's report suggested that there was a bit of "buy in anticipation, sell on news'' creeping into daily trading and this was apparent again in the holiday-shortened week that just passed when news that the Covid-19 virus has arrived in Singapore did little to lift stock prices.
As always, the Straits Times Index tracked movements on Wall St, weakening on Monday and Tuesday before recovering some ground on Wednesday and Thursday.
Those gains were still not enough to prevent the index recording a 6 points loss at 2,842.04 in the penultimate trading week of 2020. The loss for the year so far is still about 380 points or 11.8%.
The reason why markets seem to be drifting with a slight downward bias is that they had all rallied strongly from the start of November after the conclusion of the US presidential elections.
Then came hopes that a deadlocked US government would be able to pass a large stimulus bill and this was followed by news from various drug companies that they have developed viable vaccines to treat Covid-19.
These developments have helped push US indices to all-time highs whilst the STI managed a 382-points or 16% gain for the month of Nov.
US$900b stimulus package passed but comes under attack
A US$900b package was passed with big majorities by both US houses of Congress following months of negotiations but it immediately came under criticism from outgoing US President Donald Trump, who called for major changes to the bill, urging the "ridiculously low" US$600 payment to Americans to be increased to US$2,000, or US$4,000 for a couple.
He also demanded the removal of "wasteful and unnecessary items," suggesting he may not sign the bill. Democrats supported Mr Trump's call to boost payments to individuals.
So far, Wall St has shrugged off the possibility that it may not be signed into law.
Europe went into lockdown mode as new virus strain emerged in UK
A new and highly infectious strain of the virus was found in the UK last week, prompting the country to go into lockdown mode and other European countries to impose fresh travel restrictions.
Scientists are not sure if the latest virus variant will reduce the potency of the vaccines which have been developed so far. France, Germany, Italy, the Netherlands, Austria, Switzerland, Ireland, Belgium, Hong Kong, Singapore, Canada, India and Israel are among the nations which have shut off travel ties with the UK.
Minorities should accept Hi-P offer: Maybank Kim Eng
In a research report released last week, local broker Maybank Kim Eng said minority shareholders of contract manufacturer Hi-P International should accept the offer of $2 per share tabled by the company's majority shareholder.
MKE noted that the offer is 62.6% higher than MKE's $1.23 target and infers price-earnings ratios of 19.9 and 17.1 for FY20 and FY21 respectively. These valuations appear attractive because they are higher than Hi-P's five-year average forward PE of 10. The broker also noted that Hi-P's Singapore-listed peers were on average trading at 14.7 and 12.7 times estimated earnings for FY20 and FY21 respectively.
Penguin International's shares were in play
Shares of aluminium high-speed craft maker Penguin International shot up last week after the company issued a holding announcement of a possible transaction involving its shares.
The counter surged 7.5 cents or 15% on Monday to 57.5 cents when the announcement was made. They ended the week at 60 cents. In its announcement, the company said it had been notified by executive chairman Jeffrey Hing and managing director James Tham that they were in binding discussions with a potential investor.
SIA has spent 80% of the $8.8b raised from its rights issue
SIA last week said it has used $7.1b of the $8.8b raised from its June rights issue, mainly on operating expenses, ticket refunds and debt servicing.
Keppel Land to sell Keppel Bay Tower to Keppel Reit for $657.2m
Keppel Land will sell its 100% interest in Keppel Bay Tower to Keppel Reit based on an agreed property value of $657.2m, inclusive of rental support of $3.2m. The price took into account two independent valuations by JLL and Cushman & Wakefield and will give Keppel Corp a gain of $14.6m.
The initial net property income yield is estimated to be 4%, taking into account rental support. Following the divestment, Keppel Land will continue to building's property manager.
As the deal is an interested party transaction, it will be subject to the approval of Keppel Reit's unitholders at an extraordinary general meeting which is expected to be held in the first quarter of 2021.
Analysts project STI to reach between 3,000-3,200 by end-2021
The Business Times on Tuesday reported that local market analysts are forecasting that the STI could reach 3,000-3,200 over the next 12 months.
The newspaper said CGS-CIMB's Lim Siew Khee was the least bullish of those surveyed, with an STI target of 3,068 whilst RHB Securities set a 3,144 target.
DBS Equity Research's target is 3,180, the same as UOB-Kay Hian, whilst Phillip Securities is the most bullish at 3,200.
DBS's Yeo Kee Yan was quoted saying the current vaccine-led recovery optimism should see a return of the traditional sector rotation that accompanies a typical economic cycle.
He noted that banks, consumer discretionary and transportation stocks that are outperformers in the early recovery cycle have led the recent rebound, whilst "pandemic winners'' like supermarkets, personal protective equipment makers and work-from-home beneficiaries have underperformed.
Paul Chew, Phillip's research head was quoted saying a reversion-to-the-mean trade is expected in 2021.
"Sectors that suffered the most this year will recover as borders open and activities normalize'' said Mr. Chew whilst Carmen Lee of OCBC Investment Research pointed out that value stocks tended to narrow the gap with growth stocks and small-cap stocks tended to show better returns historically during an economic recovery.