Date: January 28, 2019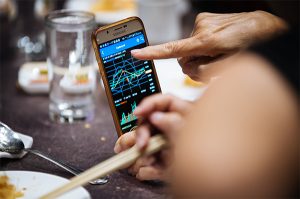 The Straits Times Index lost 22 points or 0.7% last week at 3,202.25;
The news alternated between good and bad;
Bad news included slowdowns in China, Europe and overall global growth;
Good news came from earnings releases and Trump backing down on wall demands;
Turnover here showed slight improvement to just under $1b daily
The central theme for last week's trading was that stock prices were pulled and pushed in either direction by news that alternated between being bad and good. On a macro level were fears surrounding growth in China and Europe, and how slowdowns in these two key economies would impact on the health of the global economy. These concerns quite understandably drove stock prices down; counterbalancing the negativity however, were encouraging US earnings and corporate releases that provided support.
1. First, the bad news:
IMF downgraded global growth, China reported slowest growth since 1990
On Tuesday, China announced its 2018 growth rate was 6.6%, a figure that at first glance is robust enough, but was one that was widely reported to be the slowest since 1990. This was said to unnerve markets, particularly since the slowdown deepened during the final quarter, a sign that many observers took to mean that the trade war with the US was starting to bite.
Also, another negative was news that Chinese companies were delaying their investments and hiring, whilst some were even resorting to layoffs – a practice that is highly frowned upon by the central government.
A short while later on Tuesday, the International Monetary Fund (IMF) announced it has reduced its estimate for 2019 global growth for the second time in three months, this time to 3.5%, the slowest pace in three years.
Although the IMF cited softening demand in Europe as the main reason, it also mentioned heightened trade tensions as a drag, a clear reference to the ongoing problems between US and China.
According to Reuters news, investor sentiment was also dampened by reports that business leaders gathered at the World Economic Forum in Davos, Switzerland, were losing confidence in President Donald Trump's policies that have resulted in the prolonged US-China trade stand-off.
At this stage, the momentum which had thrust the Straits Times Index up 156 points or about 5% in the first three weeks of 2019 then stalled, with the index dropping about 54 points in three successive falls between Monday and Wednesday.
US Government shutdown
Also subject to negative-cum-positive forces was the US government shutdown. Economists have been warning of the drag this would exert on the economy if it was to extend for much longer and this undoubtedly kept a lid on prices. For example, Reuters also reported that according to White House economic adviser Kevin Hassett, the US  could see zero growth in the first quarter if the ongoing government shutdown extended through March
2. Now the good news
The US market on Wed however, enjoyed some support from earnings announcements by IBM, United Technologies and Proctor & Gamble and this led to a rebound in prices both on Wall Street as well as here.
On Friday, US President Trump agreed to a deal hastily negotiated by lawmakers after the 35-day shutdown, the longest in modern U.S. history, began to seriously impact air travel. Earlier in the day, LaGuardia Airport in New York was briefly closed due to a shortage of air traffic controllers, exacerbating flight delays across the country. On Tuesday, the FBI Agents Association released a report detailing how agents have had difficulty combating terrorism and gangs because of cuts resulting from the shutdown.
The agreement comes without the funding to build a wall at the Mexican border and will last for three weeks.
3. Now for local news
With Wall Street rebounding in the latter half of the week in tandem with better news being released, so did the STI. The net result of two days of gains over Thursday and Friday was that the index's loss was reduced to 22 points or around 0.7% for the week at 3,202.25.
In its 24 Jan update, SGX's investor education portal My Gateway announced that six of the seven least performing STI stocks of 2018 were amongst the STI's 10 strongest stocks in the 2019 year through to 23 Jan. The six stocks that averaged 30% declines in total return in 2018 have averaged 11% gains over the first three weeks of 2019.
Of these six STI stocks, the two that have been the strongest over the three weeks were Genting and Thai Bev. The two stocks were also amongst the five STI stocks subject to the most net capital inflow by institutional investors from 31 Dec to 18 Jan, said SGX.
Grand Venture Technology (GVT), a Singapore-based manufacturing and industrial service provider, made its debut on SGX Catalist on Wednesday. The group has 2 main business segments – Semiconductors and Analytical Life Sciences, Electronics & Others.
Its offering comprised a public tranche of 800,000 shares at S$0.275 each, which was subscribed more than 15 times over, as well as a placement of 42.1 million shares. The overall subscription for the IPO was 1.3 times. It closed the week at S$0.27.