Date: September 24, 2018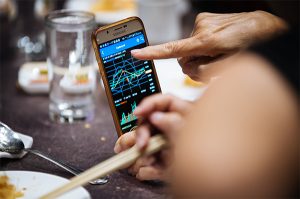 The Straits Times Index rose 56 points or 1.8% over the week;
US-China trade war was the focal point, but fears appear to have eased;
Dow Jones Industrial Average rose to all-time highs on Thursday and Friday;
10-year US Treasury yield stayed above 3% throughout the week;
Federal funds futures market is pricing in a 100% probability of a rate hike this week;
In the local market, oil and gas stocks were in play, Alliance Mineral called off its dual listing in Australia.
US-China trade conflict in limelight
The ongoing trade saga between the US and China remained the main driving force for trading in equities last week. Also worrying investors in this part of the world was the hit that China's economy would take as economists expect Chinese growth to drop by 0.5 to 0.6 percentage points in 2019 if tariffs are raised to 25 percent on Jan. 1 as the U.S. has announced.
"If you put tariffs across the board on both countries…it's a four times bigger hit to China because they export four times as much as they import," said Ethan Harris, head of global economics at Bank of America Merrill Lynch in a CNBC news report last Wednesday.
On Monday and Tuesday, the Straits Times Index weakened after the US early in the week announced a 10% tariff on US$200b worth of China imports; on Tuesday, China retaliated with tariffs on US$60b worth of US goods.
China's Commerce Ministry said on Tuesday that the US's actions brought new uncertainties to bilateral relations and news reports suggested that China is unlikely to send its top economic adviser to Washington to negotiate new trade terms in a visit that was planned for this week.
US market appeared unconcerned, even as yields stayed firm
Wall Street however, appeared able to shake off trade concerns – on Thursday, the Dow Jones Industrial Average shot up almost 1% to 26,656.98 its first all-time high since January, whilst the S&P 500 also ended at a new record high. Although the S&P weakened on Friday, the Dow again rose to a new high. According to news reports, optimism over the health of the domestic economy is overshadowing any damage that might come from the ongoing trade spat with China.
Thursday's records came after news that weekly jobless claims fell to their lowest level in nearly 49 years last week, totalling 201,000, according to the US Labor Department. Economists polled by Reuters expected claims to come in at 210,000.
No matter, over in the US bond market, Treasury yields have been firm. The 10-year, which is typically seen as the main barometer of inflation and interest rate expectations, remained above 3% throughout the week, whilst the 2-year crept up to its highest in 10 years, around 2.8%.
FOMC meeting this week – a rate hike is a sure thing
The US Federal Reserve meets this week over Tuesday and Wednesday and is widely expected to raise interest rates, with the futures market pricing in a 100% chance of a rate hike. Observers will also be watching closely to see whether the Fed makes any reference to the impact on the economy of the trade situation.
The STI regained the 3,200 level
Although the full impact of the US-China trade problem may not have been completely priced into stocks, there was surprise 1.2% bounce for the index on Wednesday that came on the back of similar gains throughout the region. This was followed by another 1.2% jump on Friday, which brought the index's gain for the week to 56 points at 3,217.68. News reports suggested that trade war fears may be easing but whether this is really the case remains to be seen.
Australian lithium producer Alliance Mineral on Wednesday announced that it has to put on hold plans for a dual listing on the Australian Stock Exchange (ASX). Alliance had earlier proposed "merger of equals'' with another Australian mining firm Tawana Resources through an issue of Alliance shares, following which the merged entity was to be dual listed on SGX's Catalist and the ASX.
The shelving of the dual listing plan was because Alliance said it would not be able to satisfy an earlier "emphasis of matter'' requirement imposed by the ASX within the scheduled time regarding whether the merged entity can continue as a going concern. However, Alliance did say it will continue to work towards an ASX listing and recommended that its shareholders vote in favor of the merger at its upcoming Extraordinary General Meeting that was held on Friday. On Wednesday, Alliance's shares lost S$0.015 or 5.7% on the dual listing news.
Elsewhere in the local market, oil and gas stocks have been firm, thanks to a continuing recovery in oil prices. One of the more prominent names in recent times has been Rex International, which was listed on Catalist on 31 July 2013 and owns a key set of proprietary and innovative exploration technologies, Rex Technologies, originating from the Company's Swedish founders. For its 2QFY18 the Group recorded a gross loss of US$0.51 million, as compared to a gross loss of US$0.02 million in 2QFY17.
In a n 18 Sep Market Update, the Singapore Exchange singled out Rex as being the O&G sector's leader in recent weeks. "On 27 August, Rex reported that the drilling and production testing of well 16/1-28S on the Rolvsnes oil discovery in PL338C, in which Rex's 90 per cent subsidiary Lime Petroleum AS ("LPA") holds a 30% interest, had been completed successfully'' noted SGX.
"On 17 September, Rex announced that subsequent to its 27 August announcement, it had received unsolicited, non-binding indications of interest in the portfolio of licences held by LPA, from unrelated third parties. As noted above, LPA is Rex's 90% subsidiary''.