Date: July 4, 2022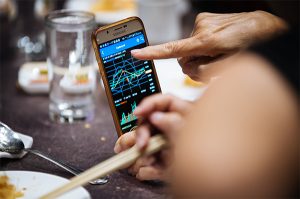 The STI fell 16 points or 0.5% to 3,095.59
US inflation and interest rate worries were still the main drivers
Wall St kicked off the second half with a gain after release of weaker-than-expected manufacturing data
Nio came under attack from short seller Grizzly Research
Singtel dismissed report of Optus listing
TTJ: IFA and directors recommend rejecting takeover offer
US outlook – recession odds have doubled whilst earnings estimates are too optimistic
The STI lost its grip on 3,100 – albeit in low volume
Over the course of the five days ended 1 July 2022, the Straits Times Index fell 16 points or about 0.5% points to 3,095.59. As has been the case for most of this year, traders took their lead from Wall Street, which underwent a torrid week as investors there were unable to shake off interest rate and inflation worries that have dogged the market for most of the past two months.
Turnover here, however, was low, averaging S$1.05b daily. This has been the case for a few weeks now and reflects caution on the part of most investors as to where interest rates are headed.
Wall St off to firm start to second half
Over in the US, Wall St equities kicked off the second half on Friday on a firm note, with all major indices rising after news that the ISM manufacturing index fell to a reading of 53 in June from 56.1 in May, below economists' forecast and marking its lowest level since June 2020.
This was in keeping with the "bad news for the economy is good news for stocks'' theme which has permeated trading over the past month as it suggests the US Federal Reserve will not need to raise rates that aggressively.
Nio came under short-selling attack
Shares of the Chinese electric-car maker Nio plunged in New York, Singapore and Hong Kong trading after a short-seller named Grizzly Research published a report claiming that the Shanghai-based start-up had inflated its revenue figures.
Among other allegations, Grizzly's Jun 28 report said Nio was likely using an unconsolidated related party to exaggerate the group's revenue and profitability.
The short-seller also insinuated Wuhan Weineng Battery Asset Management, which operates Nio's battery assets and is partially owned by the group, as a potential accessory to the alleged crime.
Nio shares tumbled 11.4 per cent to HK$165.50 in Hong Kong on Wednesday, their biggest fall in almost two months, and sank 11.4 per cent in Singapore. The stock dropped 2.6 per cent on the New York exchange on Tuesday.
Nio on Wednesday halted trading and issued a statement that Grizzly's allegations were without merit. Nio said the report also contained "numerous errors, unsupported speculations and misleading conclusions and interpretations" regarding information about the company.
Singtel dismissed report on Optus listing
On Monday, Singtel said it does not plan to list its Australian unit Optus, refuting reports that it was working on an initial public offering valuing the wireless carrier at between A$8 billion (US$5.54 billion) and A$12 billion.
The telco called the report published by news outlet The Australian "highly speculative'' and said it has no plans at the moment to list Optus.
The Australian said investment banks Goldman Sachs and Morgan Stanley had been involved in a plan to float Optus in recent months, but Singtel was expected to pause the listing due to market volatility.
The Business Times reported that analysts said such a move would be unexpected but would benefit Singtel. The newspaper quoted UOB Kay Hian analyst Chong Lee Len saying an Optus listing now would be a surprise, coming soon after Singtel's sale of a 70% stake in Australia Tower Network for A$1.9b in Oct last year.
For its financial year ended 31 March 2022, Optus posted a 32% increase in earnings before interest and taxes to S$249m.
TTJ: IFA recommended shareholders reject the offer
Shareholders of construction company TTJ Holdings have been advised by the company's board to reject the cash offer of S$0.23 per share from THC Venture, a privately held company owned by TTJ's controlling shareholder and executive chairman Teo Hock Chwee.
The recommendation is based on the advice of Zico Capital – the independent financial adviser (IFA) to the recommending directors – which said the offer is neither fair nor reasonable as TTJ is a profitable structural steel company with an ungeared balance sheet whilst and the offer price is significantly less than the value of the assets on its books.
Outlook for the US economy and market
In a report in US newspaper Barron's on Friday, accelerated monetary policy tightening has doubled recession odds according to Lisa Shalett, chief investment officer at Morgan Stanley Wealth Management MS who also noted that most economic models now suggest that the probability of a recession during the next 12 months has doubled to over 50%. The bond market has started to reflect that probability, with Treasury yields slipping as investors turn to safe havens.
Ms Shalett also said earnings estimates were too optimistic and until 12-month forward earnings estimates fall 5% to 10%, the bear market is not over.
Also quoted was Deutsche Bank strategist Jim Reid who said "Bad [first halves) for equities have tended to be followed by much better [second halves]. But with increasing warnings that a recession is round the corner, it isn't so obvious where things are headed this time round''.