Date: October 26, 2020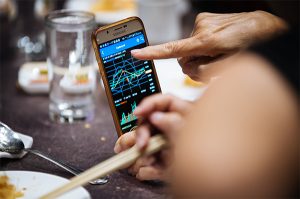 Markets drift while Wall St waits for US stimulus deal;
The STI's rise on Friday meant it gained 4 points at 2,537.39 for the week;
Local brokers are bracing themselves for a spike in volatility ahead of the US's 3 Nov presidential elections;
Mapletree Logistics to raise $650m to buy properties overseas;
Cathay Pacific to cut 6,000 jobs, close Dragon Brand;
Kwek Leng Peck resigned from CDL board;
Venture reached 52-week high.
Stock markets, especially Wall Street, have become so reliant on bailouts that when there are signs that such help isn't forthcoming, weakness sets in. Conversely, if there are signs that government or central bank money is on its way, prices rise.
This was the case between 2008 and around 2012 during the bailout of US banks because of the sub-prime crisis that was triggered by the collapse of Lehman Brothers, and is again the case in 2020 when COVID-19 brought the world economy to its knees.
The US Federal Reserve has played its part this year with its large-scale money support but the central bank can't put money directly into the hands of consumers and given that the US's economy is largely consumer-driven, this is a concern for markets.
So it is that for the past 2-3 months, markets have hoped and waited for US political parties to hammer out a suitable stimulus package to lift a fast-backsliding economy.
Each day for the past few weeks, Wall St would rise if there were signs of a breakthrough in stimulus talks, then fall back if those signs proved premature or false. Not helping were negative tweets from President Trump in the middle of last week pinning blame for the failure of talks on the Democrats.
AxiCorp's chief market strategist Stephen Innes was quoted in the press as saying investors are now "suffering a severe case of stimulus exhaustion'' and that more are opting to stay out of markets. He was also quoted saying markets are expected to encounter more volatility in the near term in the lead-up to the US Presidential elections on 3 Nov.
The outcome of this uncertainty was an equally uncertain trading week for the local market, one in which the Straits Times Index's 8.98 points rise on Friday to 2,537.39 meant that the index managed to record a 4-points or 0.16% gain for the week.
Experts have warned the US needs another round of financial relief for struggling businesses and families in order to recover from the pandemic's economic downturn. The last round of aid expired at the end of July, including an additional US$600 per week in federal unemployment benefits meant to shore up workers in addition to state aid.
Local brokers raise margins, expect volatility ahead of US elections
On a related note, the Business Times on Thursday reported that because of an expected increase in volatility due to the elections, local broking firms are imposing higher margins for their clients.
Phillip Futures will raise margins by 20% from 26 Oct until further notice across US indices, gold futures, currency futures and related products. Interactive brokers has imposed higher minimum margins on 28 Sep, with the increase being implemented gradually between then and 23 Oct.
Mapletree Logistics Trust to raise cash for overseas purchases
Mapletree Logistics Trust on Tuesday announced that it is aiming to raise up to $650 million from unitholders via a private placement and preferential offering to help pay for $1.09b worth of properties in China, Malaysia and Vietnam.
The purchases are subject to shareholder approval and according to analysts, the new properties will allow MLT to strengthen its connectivity across key logistics nodes and improve its supply chain resilience. Net assets are expected to increase by 6.6% and the accretion to distribution per unit is 1.3%.
On Wednesday, MLT announced that the private placement was about 5.5 covered, with the issue price fixed at $2.027 per new unit. The issue price for the non-renounceable preferential offering was set at $1.99 per new unit.
Cathay Pacific to cut 6,000 jobs, close Dragon Brand
Hong Kong airline Cathay Pacific last week announced it will be shedding 6,000 jobs and closing its Cathay Dragon brand as part of a strategic review to stay afloat amidst the COVID-19 pandemic. The company posted a HK$9.9b loss in the first half and in September said it would not survive unless it adapted its airlines for "the new travel market''.
CDL director Kwek Leng Peck resigned
Non-executive and non-independent director Kwek Leng Peck resigned on Monday last week from property giant City Developments (CDL)citing disagreement with the company's board and management over an investment in Sincere Property Group in China and the management of London-based, wholly-owned Millenium & Copthorne Hotels.
Mr Kwek is the cousin of CDL's executive chairman Kwek Leng Beng and is the uncle of CDL's group chief executive and executive director Sherman Kwek, son of Mr Kwek Leng Beng.
Venture Corp's shares touch 52-week high
On Wednesday last week, shares of electronics firm Venture Corp rose to a 52-week intraday high of $21.21. It finished the day S$0.32 higher at $20.97 and ended the week at $20.60.
In a Business Times report, RHB analyst Jarrick Seet said Venture should chart a steady recovery in the second half of this year. "The company is now fulfilling its backlog of orders while its research and development laboratory plans to release some new products for the manufacturing segment in early 2021'' Mr Seet was quoted as saying.
The report also quoted DBS analyst Ling Lee Keng as saying that demand for Venture's essential products like ventilators and networking and diagnostic equipment has surged because of the pandemic.