Date: December 7, 2020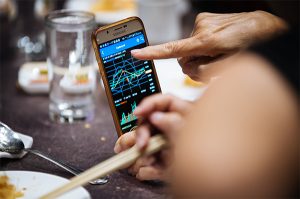 The STI fell 16 points or 0.56% to 2,839.89;
Main support came from vaccine news and US all-time highs;
Moderna's vaccine could be in Singapore this month;
Credit Bureau Asia was latest mainboard IPO;
SGX RegCo issued Trade with Caution on ISOTeam's shares;
LMIRT's shareholders grill managers on Indon mall purchase;
Sabana-ESR Reit merger scuppered
A soft week after a sterling November
The Straits Times Index in November gained 382 points or almost 16%, so it should come as no surprise that for the first week of December, it fell 16 points or 0.56% to 2,839.89.
Despite this fall however, the underlying sentiment remained firm, helped mainly by positive developments on the vaccine front that have given rise to hopes that economies will soon reopen after being closed for most of this year and growth will slowly return.
Stephen Innes, chief global strategist at Axi, probably summarised the situation best when he was quoted in The Business Times on Friday saying "The much clearer view across the valley to economic recovery will lead to risk premium compression and eventually lead to more upside for Asia stocks''.
Wall Street continued to hit all-time highs on stimulus hopes, weak jobs report
In the U.S., optimism is building over a potential fiscal stimulus bill, after House Speaker Nancy Pelosi and Senate Minority Leader Chuck Schumer said the US$908 billion plan put together by a group of centrist Democrats and Republicans could be a basis for negotiation.
They have previously held out for a stimulus bill exceeding US$2 trillion. Senate Majority Leader Mitch McConnell said the endorsement of the plan was a step in the right direction.
Also helping was a weaker-than-expected November jobs report released on Friday, which led the market to bet on a larger-than-expected stimulus package.
The only dampener was that drug company Pfizer, which announced last month that it has developed a viable COVID-19 vaccine, said it would only distribute 50 million doses in 2020, down from an initial forecast of 100 million. The company cited supply chain issues. However, Pfizer is keeping its forecast of more than 1 billion doses by the end of 2021.
Moderna's vaccine could be in Singapore this month
US biotech firm Moderna, another company which has said it has a developed a vaccine, said on Tuesday that it has approached Singapore authorities about distributing it here. Chief executive Stephane Bancel was quoted by the Straits Times as saying his firm has "started sending to Singapore all the information'' that they have and that they have been having a "very good dialogue''.
"It is of course, their decision how long they need to be comfortable with the data because their priority is to ensure safety, but I anticipate that it could be maybe in December, maybe in January''.
Credit Bureau Asia debuted on the mainboard
Credit Bureau Asia began its trading debut at $1.13 on the mainboard on Thursday, 21.5 per cent or 20 cents above its initial public offering (IPO) price of 93 cents per share. The shares finished the week at $1.02.
The company's public offering of 1.5 million shares had been subscribed 60.8 times, with "strong interest" for its 28.5 million placement shares from institutional and other investors.
Separately, cornerstone investors Aberdeen Standard Investments (Asia), Affin Hwang Asset Management, Eastspring Investments (Singapore) and Tokyo Shoko Research had subscribed for a total of 28 million new shares, constituting a 12.2 per cent stake in the company after completion of the offering and the issuance of the cornerstone shares.
SGX RegCo warned about trading in ISOTeam
SGX RegCo, the regulatory arm of the Singapore Exchange (SGX) on Thursday issued a Trade with Caution alert on trading in the shares of building maintenance firm ISOTeam.
This came after the counter surged to S$0.149 on 24 Sep, up 7.2% from $0.139 on 23 Sep and has remained around $0.147 since. SGX RegCo said that a small group of accounts was responsible for the trading volume between 24 Sep to 24 Nov and that the same group was responsible for more than 83% of the "buy'' trades on 24 Sep.
SGX RegCo added that these accounts appear connected to each other and have been trading among themselves. Between 24 Sep-24 Nov, these accounts traded with each other on 41 of the 44 trading days. The regulator said it is reviewing the trades and will take the necessary action, including referring the case to statutory authorities if warranted. ISOTeam's shares ended the week at $0.136.
Lippo Malls Indonesia Retail Trust question management on asset purchase
Unitholders of Lippo Malls Indonesia Retail Trust (LMIRT) on Wednesday grilled the Reit's manager on the pricing and timing of a large asset purchase, whilst also raising questions about the Reit's gearing and the dilutive effects on the deal. This took place at a virtual dialogue session organised by the Securities Investors Association of Singapore (SIAS).
LMIRT is proposing to buy the strata title units of a mall in West Jakarta called Lippo Mall Puri for $336.5m – versus LMIRT's market cap of about $243m – from the Reit's sponsor Lippo Karawaci. The money will come from $120m in debt and a rights issue or 160 units for every 100 units at $0.06 per unit.
At the virtual meeting, unitholders questioned the need to buy the mall and to undertake a rights issue now. They also raised concerns about the property's valuation, especially given the COVID-19 situation in Indonesia. James Liew, chief executive officer of LMIRT's manager, was quoted in the Business Times on 4 Dec as saying the Reit is buying its soon-to-be "flagship asset'' at a "very competitive price'' from its sponsor.
On 4 Nov, LMIRT announced that Fitch Ratings Singapore had downgraded LMIRT's Long Term Issuer Default Rating to BB- from BB.
"The Outlook is Negative. Its US$250 million senior unsecured notes due 2024, issued by LMIR Trust's subsidiary, LMIRT Capital Pte Ltd, have also been downgraded to 'BB-', from 'BB'. The downgrade reflects Fitch's expectation that LMIR Trust's financial metrics will remain weak for a prolonged period, as the recovery in Indonesia's retail sector is taking longer than initially estimated'' said LMIRT quoting from the Fitch report.
Independent unitholders voted against Sabana-ESR Reit merger
The controversial merger between Sabana Reit and ESR Reit will not proceed after 33.33% of Sabana's independent unitholders voted against the deal in Friday's extraordinary general meeting (EGM). For the deal to go through, it was necessary to have 75% of votes cast in favour.
Following the no-deal outcome, Sabana's manager said that while it believes the merger had compelling strategic rationale, it respects the preference for Sabana to remain a standalone Reit and that remains committed to continue creating value for all unitholders.
The Business Times on Saturday quoted CGS-CIMB analyst Eing Kar Mei as saying the outcome would not have any fundamental impact on ESR-Reit. However, the newspaper also quoted corporate governance observer Chew Yi Hong as saying the no-deal was a "lose-lose'' for Sabana, one reason being that the board pushed ahead with the scheme knowing that it didn't have the support of big minority unitholders. This was a reference to the two activist fund managers, Quarz and Black Crane, who had vocally opposed the merger as they believed it undervalued Sabana.
Jan Mormann, chief executive officer of Quarz, said the outcome underscores the lack of confidence independent unitholders of Sabana have in the current board and manager, and sends a strong signal that boards and managers should not ignore minorities who can band together to safeguard their rights to ensure their investments are managed well.