Date: November 30, 2020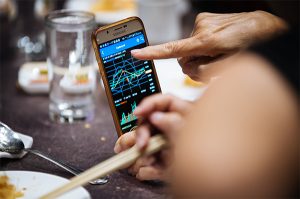 The STI continued its recent rise, gaining 1.5% at 2,855.82;
Record highs on Wall Street helped boost sentiment;
US stocks' rise came after signs of smooth transition to Biden govt;
Top Glove's shares slide after factory closures due to worker infections;
Broadway Industrial in play on news of US$50m asset sale to Seksun;
SIA issued $500m notes at 3.5% via private placement;
Sabana-ESR Reit merger proxy advisers recommend voting in favour.
STI's recent recovery continued with 1.5% gain
Notwithstanding the fact that Singapore's October factory output fell an unexpected 0.9% year-on-year, the Straits Times Index still managed a 42-points or 1.5% rise over the week to 2,855.82. This rise came despite weakness over Wednesday to Friday.
Helping support prices were continued hopes of a vaccine to treat the COVID-19 virus as well as signs emerging from Washington that there will finally be a smooth transition to the new Biden administration after a 3-week delay. This came when the Trump government granted the incoming administration access to the General Services Administration, a federal agency that will provide funding for the transition.
With one less thing to worry about, the Dow Jones Industrial Average crossed 30,000 for the first time in history last week, whilst the S&P 500 and Nasdaq Composite ended Friday at new record highs.
Top Glove's shares fall on news of COVID-19 infections, factory closures
The world's biggest glove maker Top Glove was in focus last week after news that thousands of its workers have tested positive for COVID-19 and that this has forced the closure of many of its Malaysian factories.
The company's shares took a beating in a generally upbeat week for the rest of the market, plunging to a low of $2.19 on Wednesday before recovering to end at $2.29 on Friday, down $0.09 or 3.8% for the five days.
According to Malaysian news reports, the government there has ordered a full probe into Top Glove's housing and working conditions. The company has said that some of its deliveries could be delayed by four weeks and new orders could take longer to process because of the factory closures. It also said sales could fall 3% short of projections for the 2021 financial year.
Top Glove's market value rocketed this year after demand for gloves soared, sparked by the spreading coronavirus. But factory lockdowns and news that drug makers are making progress toward a COVID vaccine have caused a sell-off in recent weeks.
Broadway International shares shoot up on news of big asset sale
Shares of precision machined component maker Broadway Industrial jumped into life last week after the company announced it has received a US$50m offer for its hard disk business from the largest production outfit of the Seksun group of companies.
On Tuesday, the counter surged $0.042 or about 34% to an intraday high of $0.166, a level not seen since April 2017. It ended that day at $0.165 and the week at $0.163.
Broadway Industrial on Tuesday morning said it has received a binding letter of intent (LOI) from Seksun Technology (Suzhou), under which the buyer plans to acquire substantially all assets used in Broadway Industrial's actuator arm and related parts manufacturing operations.
Incorporated in China, the buyer's core competencies are in precision metal stamping. The company serves customers from the hard disk drives, consumer electronics, automotive and telecommunication industries.
SIA issued $500m worth of 10-year notes at 3.5%
Singapore Airlines last week priced $500 million worth of 3.5 per cent notes due 2030 under its $10 billion multi-currency medium-term note programme, which it has upsized from $5 billion previously. The notes are expected to be issued on Dec 2 via private placement.
SIA said the offer was launched at an offer size of $300 million in response to an initial expression of interest and was increased to $500 million after "strong appetite was apparent from a select group of private investors". Net proceeds will be used for general purposes, including refinancing of existing borrowings.
The bond issue brings the total funds raised by SIA since the start of FY21 to about $12.7 billion. This includes $8.8 billion from a rights issue, $2 billion from secured financing, $850 million via a recent convertible bond issue, and more than $500 million through new committed lines of credit and a short-term unsecured loan.
Proxy advisers for Sabana-ESR Reit merger recommend voting in favour
The proxy advisers for the proposed merger between Sabana Shari'ah Compliant Industrial Reit and ESR-Reit, Glass Lewis and ISS on Friday recommended unitholders vote in favour of the deal.
The meetings are to be held on 4 December, but voting is via proxy and so the necessary forms have to be submitted by 10am on 1 Dec.
Glass Lewis and ISS said the enlarged, merged entity would result in a "more resilient and secure income stream'', that the financial terms are reasonable and that the merger appears to be a fairly standard combination that should yield a host of benefits to Sabana's unitholders.
Opposing the merger are activist fund managers Quarz and Black Crane, who have said the deal undervalues Sabana and that they are confident of finding a buyer who would offer a better price. They have also proposed internalising the management.