Date: July 27, 2020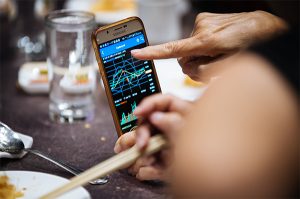 STI fell 1.5% over the week to 2,579.51;
Singapore's factory output was -6.7% y-o-y in June;
Flight to safety pushed gold near all-time high;
EU leaders agreed on a historic stimulus package;
Temasek reported one-year return of -2.3%, portfolio at S$306b;
Best World's shares to remain suspended: SGX
Virus developments, economic news provide main drivers
There were no surprises last week as news about virus named COVID-19 continued to drive market movements. Support for stocks came from announcements that trials have started on a possible vaccine, though by most estimates, even if one is found, it would only be available next year at the earliest. Pulling stocks lower was the release of weak economic news and surging infection numbers around the world.
The outcome was a 39-points or 1.5% loss for the Straits Times Index over the week at 2,579.51, with most of this coming on Friday when the index fell almost 33 points. Adding to the pressure in the latter half of the week was weakness on Wall Street, particularly in tech stocks. Still, despite sharp falls on Thursday and Friday, the US market managed to chalk up a fourth consecutive week of gains.
Factory output was -6.7% in June
According to preliminary data, Singapore's June factory output was down 6.7% year-on-year. Economists are projecting full-year GDP to contract by 5 to 6% with risks mainly tilted to the downside.
Gold nears all-time high
One other notable feature has been a flight to safety which has benefited gold, whose price has been rising of late. The rally in gold accelerated in trading on Thursday, reportedly as investors reacted to a bullish statement by well-known fund manager Mark Mobius. The price soared to US$1,905, a few points below its all-time high of US$1,920.
In a statement, the veteran emerging markets investor said that the price will continue to rise because of negative real rates, a weaker US dollar, and the recent geopolitical issues. Other analysts too have raised their target for gold. In a statement, analysts at UBS upgraded their target to US$2,000 while those at Bank of America expects it to reach US$3,000.
Silver has also benefited from the flight to safety, its price rising to a 4-year high just above US$20 per ounce mid-week.
European leaders agreed on historic stimulus package
On Tuesday, European Union leaders reached a historic stimulus deal worth 750b euro to deal with the hit to European economies created by the COVID-19 virus pandemic. News of the deal pushed the euro to a 4-month high of US$1.147.
In local news:
Maybank Kim Eng (MKE) in a report on Genting Singapore said Resorts World Sentosa (RWS) has reopened but operations will take more time to recover. "We now forecast FY20E net loss of S$214.6m (S$49.4m net profit previously), cut our FY21E net profit by 43% but tweak our FY22E net profit up by 2%''.
"Utilising a lower WACC (weighted average cost of capital) of 13% (15% previously), our target price is unchanged at S$0.80. With <10% upside potential, we downgrade GENS to HOLD. In our view, its share price may have peaked for now''. Genting's shares closed at S$0.75 on Friday.
In a research note last week, the Singapore Exchange (SGX) said Singapore's five most traded non-cyclical consumer stocks this year have included Wilmar, ThaiBev, Dairy Farm, Sheng Siong and Golden-Agri.
"Together the five stocks have generated a decline of 7% for the 2020 year to 21 July, similar to the 9% declines seen by regional ASEAN peers. Sheng Siong and Wilmar have added to their 2019 gains in 2020, with Sheng Siong Group gaining 32% and Wilmar gaining 8%, and both stocks recovering more than 50% from 23 March lows. For the March Qtr, Sheng Siong reported 50% YoY net profit group and Wilmar reported 23% YoY core net profit growth'' said SGX.
DBS and UOB will be reporting 1H20 on 06 Aug and OCBC on 07 Aug.  "Provisioning costs should see material QoQ momentum as the brunt of regional lockdowns and economic downgrades manifest. We expect provisions to be largely cautionary. Significant drops in interest rates should drive negative pressure on NIMs, while fee income may also be impacted from weak wealth management and loan fees'' said MKE in a report last week.
Temasek's return and portfolio value
Temasek Holdings last week reported that its one-year total shareholder return (TSR) was -2.3% for the 12 months ended 31 March 2020, a further drop from its previous year's 1.49%. TSR is a compounded and annualised measure that includes dividends paid to its shareholder but excludes its shareholder's capital injections.
Based on preliminary figures, Temasek's net portfolio value stood at S$306b as at 31 March, compared to S$313b a year previously. The firm said its performance was "resilient'' compared to the steeper falls in the MSCI Singapore Index and MSCI AC Asia ex Japan Index, which fell 18.3 and 9% respectively.
Most of the declines were the result of the sharp market correction in the quarter up to 31 March, which came in response to the onset of COVID-19, said Temasek.
Best World's shares to remain suspended
The Singapore Exchange's regulatory arm SGX RegCo last week said shares of beauty products firm Best World will remain suspended until issues over the company's accounting practices are addressed.
These issues arose after an independent review of Best World's finances done by Pricewaterhouse Coopers uncovered questionable deposits into personal bank accounts by the firm's franchisees and other potential breaches of the Singapore Companies Act.