Date: May 10, 2021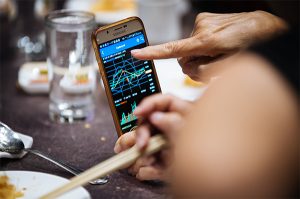 The STI lost 18 points or 0.5% at 3,200.26 in a week of two halves;
The first half was marked by selling after virus resurgence worries;
The second half saw a rebound as Wall St rose to record highs;
US market's record came despite disappointing jobs report;
In local news, SPH's restructuring plan stole the headlines;
UOB's results were better than expected;
Tighter curbs – who benefits and who doesn't?
Virus worries vs Wall St's strength mean first a fall, then a rebound
The sudden increase in COVID-19 cases around the world last week brought pressure to bear on the local stock market in the first few days. However, Wall Street's all-time highs on Thursday and Friday – the latter coming despite a hugely disappointing jobs report – helped restore some confidence and pushed local stocks higher. The net outcome was that the Straits Times Index's loss was limited to just 18 points or 0.55% at 3,200.26, with Friday's 27.26 points jump playing a big role.
Friday's rise came with the market recording slightly more losses than gains – 249 versus 243, suggesting that the rebound was mainly in large caps and not reflected throughout the broad market. This was indeed the case – most of the STI's gain came from big bounces in the three banks, with additional contributions from Jardine Matheson, SGX and SIA.
The early pressure in the week came after news of a small rise of cases here, news which has prompted the Singapore Government to try and nip the problem in the bud through tighter measures that will be in place until 30 May.
US market's highs came despite weak jobs report
Both the Dow Jones Industrial Average and the S&P 500 climbed to new highs Friday, even after a disappointing April jobs report hinted that the economy may not be rebounding at the speed experts had previously forecast.
Nonfarm payrolls increased by 266,000 in April, the Labor Department reported. Economists had been expecting a gain of one million jobs. The unemployment rate rose to 6.1% from 6% in March.
The 10-year Treasury yield was up 1.5 basis points to 1.576%, after briefly falling below the 1.50% mark right after the jobs report. It was down 5.6 basis points this week.
SPH's restructuring took centrestage
Among the corporate developments of interest was media and property firm Singapore Press Holdings' (SPH's) restructuring plan announced on Thursday which will see its poorly-performing media assets placed in a not-for-profit entity in the form of a company limited by guarantee.
SPH said this will free the media business from "the expectations of shareholders for a fair financial return and regular dividends'' and give the company "greater financial flexibility to tailor its capital and shareholding structure to seize strategic growth opportunities across other businesses in order to maximize returns for shareholders''.
The plan, which is subject to shareholder approval, requires the company's media assets to be transferred to a newly-incorporated subsidiary called SPH Media Holdings which will receive S$110m from SPH, including S$80m in cash.
SPH said it has received support for the plan from the Ministry of Communication and Information, which regulates the company under the Newspaper and Printing Presses Act.
SPH's shares on Friday collapsed S$0.27 or 15% to S$1.52 on volume of 92.4m. Analysts however, were generally positive – CGS-CIMB for example, placed an "add'' call on the stock with a S$2.09 target price pending completion of the exercise. Factoring in costs of the restructuring and excluding the value of the media business, its target would be S$1.94.
OCBC Investment Research said it is positive longer term because of the potential for unlocking value. It has a "hold'' call on SPH with S$1.92 fair value.
UOB's results were better than expected
UOB on Thursday reported an 18% increase in 1Q net profit at S$1.01b, driven mainly by record fee income and smaller impairment charges. This beat analysts' estimates of around S$891m.
Maybank Kim Eng said UOB is seeing a strong operating rebound – especially in Singapore and North Asia – and this is likely to strengthen as economic activity opens up.
"Its ASEAN exposure – where COVID is resurging – poses some near term risks, but strong provisioning and capital levels provide cushioning and potential upside from reserve writebacks down the road. UOB's credible execution of its digital banking strategy and regional integration should support stronger medium term growth from increased customer acquisition and North-South supply chain shifts. We raise target price to S$29.34 from S$26.24. Upgrade to BUY''. After dropping S$0.27 on Thursday, UOB's shares on Friday rose by S$0.55 to S$26.58 on volume of 6.3m.
Analysts' views on who benefits who doesn't from tighter curbs
Most analysts reckon tighter measures and surge of cases around the world will probably not derail the economic recovery. RHB for example, was quoted in The Business Times on Thursday saying "While there will be a near-term slowdown, we do not expect a sharp decline in economic activity amid the continuing vaccination drive, and far better testing and contact tracing capabilities now, compared to last year''.
The broker recommended a balanced investment strategy, with exposure to high-yield stocks that offer earnings and dividend visibility. CGS-CIMB in the meantime, said it expects the better year-to-date performers like banks and travel-related counters like SIA and Sats to take near-term hits. Reduced activity will likely also hit transport counters like ComfortDelgro and SBS Transit as well as retail Reits and other re-opening beneficiaries like Genting Singapore and Jumbo.
Citi said it expects industrial Reits to be least impacted by tighter measures, while RHB said it expects the sector to benefit as it has underperformed relative to retail and office Reits. On 4 May, DBS maintained a preference for logistic-focused counters.